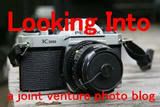 On Sunday I was loading several images onto Looking Into, the joint photoblog Jenn in Holland and I started back in August. As I was going back and forth between formatting each individual image and the list of posts I saw that Jenn was on the site as well, uploading her photos for the same week.
That is pretty much how we work. We usually don't "talk" about the photos we plan to upload onto the site. Last week was our first attempt at a theme (what? you missed Animal Week? you missed my beloved wild horse running off the sand dune?) We critique or give feedback when asked (or not) but generally we let each other use as we each chose to. In case you haven't noticed, I always have odd days and she has even.

As I was uploading this weekend I thought how lucky I was to have such an excellent partner in this "other" project of mine - a venue to show photographs. How lucky we both were to have such talented and generous guests share their artwork with us. If you haven't shared a photo with us but would like to, please send it to us at looking DOT into AT yahoo DOT com.

Be sure to look at our celebratory page up today. We chose a photo, independent of each other, to celebrate 100 photos on Looking Into.
And those are only the first 100. We've got a few more to show you.