As I have been blabbering about for a while, I've been reading Sara Gruen's Water for Elephants. It is a fictional account of a "train circus" during the depression of the 1930's. Her characters come to life immediately and there was no need to wade through until you got into the story (which happened to me with Poisonwood Bible by Barbara Kingsolver).

The novel starts with the animals breaking out from their cages and someone being murdered during the mayhem. Then it weaves back and forth between the narrator sitting in a nursing home as a 93-year-old-man and him recalling his days in the circus.

But it was the last 100 pages that just threw me. I'm one of those people who can figure out where a plot is going (very few movies throw me for a plot loop - although I will admit that both The Crying Game and Sixth Sense did). This novel actually had two plot twists that I didn't expect. I stayed up way past my bedtime, huddled under the covers as these characters' lives unfolded. Even the mayhem/murder scene which opens the book is still a thrilling read when the story eventually gets to it. I think that is pretty amazing since you know what is coming.

And the last plot twist left me in tears. I haven't had a book reduce me to tears in years, years. If you are looking for a book to read now or on January 10, 2008, I highly recommend Water for Elephants.

And more people are joining Day to Read on January 10, 2008 - a day to put down our keyboards and pick up a book (or magazine or the newspaper) -

Goofball noted my special powers because apparently on the same day I unveiled Day to Read, she writes, "all Flemish media bring the news that we don't teach our children a reading culture anymore."

Jan just jumped right in talking about how she loves to read. Her list is exhausting but clearly she is a woman who does love to read.

New friend Wholly Burble tells of how she and her mother would read books together during lunch before her mother left to work the evening shift as a nurse at the local hospital.

Mariposa Speaks found out about Day to Read from Wholly Burble and has taken January 10, 2008 to the Philippines. She lists her favorite books and ends with "Reading is a discount ticket to everywhere. So, read with me and the rest of the world and together, let us get there!"

Dear buddy Alex Elliot has committed to spending part of the day reading. She gets a pass since unbeknowst to me I picked her birthday (so now everyone remember to wish her a Happy Birthday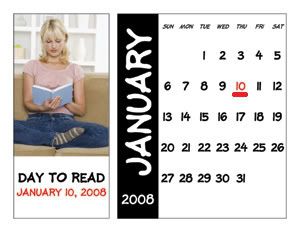 And then there is the awesome Suzanne at Suzanne Says. She created the stunning alternative button that uses a calendar to remind everyone what January 10, 2008 is. When she showed it to me I was humbled and awed by her creativity. She also gives a terrific list of short reads so you can read an entire book in one sitting. Now isn't she doubly thoughtful?

So, are you joining the party on January 10, 2008? Some of you have been asking for the button code (thank you). Just let me know when you write about Day to Read so I can sing your praises.

But also, what books do you love to talk about? What book(s) have you been meaning to read?