Thursday is the Second Annual Day to Read in which I will keep away from all those social things I do on the computer and read a book.

Or maybe a magazine. Or several magazines.

On Friday last week we received a postcard with a gorgeous image of zebras. On the other side was a note from National Geographic saying we had a year's subscription courtesy of Amazing Guy's parents.

I was thrilled.

On Saturday we got three issues of National Geographic - October, December and January (not sure what happened to November). I was immediately taken back to being a kid and holding the perfectly sized magazine - bigger than a book but smaller than a regular magazine - and admiring the photography. Looking back on that I realize I was much more interested in the images than the words.

My boys grabbed these new issues and started showing me images and asking what was going on. One guy now just blurts out "who-what-where-when-why-how?" and if I miss one of those distinctive questions I will always get a follow-up "but I asked where!" (or when or why....)

So I'm looking forward to diving in and finding out the who-what-where-when-why-how. Not sure if I will know the answers but I will have some beautiful images to help me along the reading journey.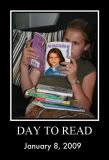 What are you reading on Thursday?