And now I have it on, yes, my iPod.

Mi Swing Es Tropical
by Nickodemus & Quantic. C'mon, you love it too. Admit it. Even though it is an iPod ad you can't help but move a little to this one.
***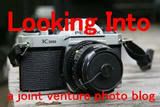 We have our first guest at
Looking Into
.
The Ambassador
has a photo that will make you smile, or squirm. But you have to come over to see.