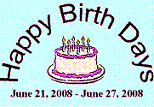 Brought to you by Alex Elliot of Formula Fed and Flexible Parenting, I'm writing yet another birthing story in honor of her son's birthday. Guess which baby this one is.
***

They came home late from an event. He didn't listen to the radio so he wouldn't know the outcome of a basketball game that would be rebroadcast on one of the four channels on the television. Her belly was swollen from carrying a baby for 9 months.

She went to bed later than usual as he settled down on the couch to watch the replay of the game. During the second quarter she came to him saying she was in labor.

"No you're not." he assured her. He reminded her he had worked at the admittance desk of a maternity ward and he knew what a pregnant woman looked like.
He was desperate to watch the game.

"TAKE ME TO THE HOSPITAL NOW!" she not-so-politely declared.
***
He dropped her off at the front door of the hospital while he went to park the car. Once in the building he decided to go up the stairs in an attempt to find his wife. He suddenly realized he wouldn't be able to locate her this way.
He stuck his head out of the stairwell and into a hallway.
"DON'T CALL ME SWEETHEART!! YOU CAN CALL ME MRS. [SMID's MOTHER]!!!!!"
He found her. Politely reminding the obstetrician the correct way to address her.
And I arrived a few hours later at 2:42 in the morning.