It wasn't the New Orleans Jazz and Music Heritage Festival. But for our little town, this past weekend had two wonderful days of music under a big white tent on our church green. Sponsored by a
group
of independent businesses and local residents of a historic part of town, it was the first of hopefully an annual event to bring live music not only into the neighborhood, but for the entire town.
David Polansky
was a funny and smart children's performer. He had the kids singing and the parents laughing. If you are in the area, go find his next show and bring along your favorite little person or people. If you don't live in the area, seriously think about getting a CD of his. There were 3-year-old groupies begging for original songs.
There were high school kids playing their first band gig. They played a song written by the lead singer/guitarist.
Towards the end of their time, the singer announced his aunt had just arrived and really wanted to hear him sing the song he wrote. He asked the audience if he could sing it again. We all cheered to hear it again.
There was a women's a capella group which opened with one of my favorite songs,
I'm Gonna Sit Right Down, and Right Myself a Letter
which was made famous in 1935 by Fats Waller (and is on an earlier boys'
birthday CD
). There was a band which is known in these parts as the band put together by an auto magnet's son. What I didn't know was the band includes two former members of the 1970's band Boston (everybody start singing "More than a feeling!") and the saxophonist from John Cafferty and the Beaver Brown Band. They were actually pretty good.
There were senior citizens from the local Council on Aging singing from
West Side Story
, reading the poem about being old and wearing purple, and dancing the jitterbug. There was the Senator's aide who I never knew played accoustic guitar and sang. And he had a serious following under the tent for his gig. The middle school advanced chorus sang several songs including the heartbreaking Randy Newman tune
Louisiana 1927
. There was also an awesome Latin funk band with no less than four percussionists. Now that is a band.
But by far my favorite was an African drummer group. Made up of kids from a public elementary school in other town, they danced, sang and drummed. They are taught by Jafar Manselle. Those of you with
Curious George
-watching people will recognize him from the live action segment that follows the episode where George conducts the orchestra. Little Lady did. She charged right up to him as he was getting ready, yelled "I saw you on TV!", he grinned and she ran away.
The kids were wonderful. They danced a gumboot dance (you all know
I love that
). They showed us the meaning of a Yoruba dance.
But they brought together a community. A community of human beings. Under a white tent on a spring day.
Any music to share? You can always tell a story about the song....
***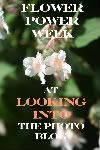 Don't forget to visit
Looking Into
for the next week plus some days to see beautiful flowers.